As part of Maths Week, the boys will be given lots of different Maths challenges and activities to do.
Today, they had to estimate how many pom-poms were in the jar. Then we counted them!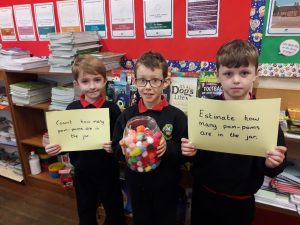 There were 137 pom-poms in the jar. Aaron's guess was closest. He guessed that there were 107 pom poms in the jar. He got to take a prize from the prize box!
The boys have also been doing Maths challenge where they are given a worksheet with addition. The activity is timed. Lots of boys were beating their time from yesterday.